SWA advises IDW Publishing on Two New Crossovers with DC Entertainment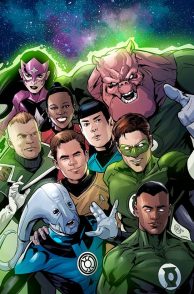 SWA advised IDW Publishing, a division of IDW Media Holdings, Inc. (OTC Pink Markets: IDWM), on the negotiation with DC Entertainment regarding two new comic book crossovers based on some of their most popular properties, including a sequel to the smash-hit co-publishing venture Star Trek/Green Lantern and an all new crossover with animation-inspired versions of Batman and Nickelodeon's Teenage Mutant Ninja Turtles.
SWA not only negotiated the crossover deal with DC Entertainment, but also negotiated for IDW the underlying licenses with each of CBS Consumer Products (owner of Star Trek) and Viacom Media Networks (owner of TMNT).
SWA also advised IDW Publishing on the negotiation with its newest publishing partner, Drew Ford, for a new imprint 'It's Alive!'.
SWA's Tuvyah Aronoff advised the IDW team on the negotiations. In addition to representing IDW Publishing in connection with a wide range of publishing and content licensing agreements, SWA also provides corporate and securities advice to its parent, IDW Media Holdings, Inc.